Description
Kind LED is excited to announce the latest innovation in LED Grow Lights Technology—the brand new X Series. The successor to our K3 series of fixtures, the new X220, X330, X420, and X750 fixtures combine the tremendous innovations of our flagship X² fixture with a brand new form factor optimized for the home grower.
Spectrum                2 Channel – Dimmable
Max Wattage          750w (±5%)
Efficacy                   2.55 μmol/J
PPF                            1730 μmol/s
Input Voltage.        120-277v
Amperage                6.25 amps @ 120V
Lifetime                    >100,000 Hours
Weight                     31 lbs
Dimensions            42.5 x 44.75" x 1.25"
RMH                          12″± 6″
Cord Type               6′ – 120v
Footprint (RMH).  4′ x 4′
Warranty                 5 Year
Certifications        ETL, FCC
*RMH varies depending on grower skill set and plant variety.
FASTER, HEALTHIER GROWTH
Yields Maximized with Precision UV/IR Control
UV and IR are essential for increasing flower development and ramping up secondary metabolite production which increases both potency and terpenes. Since this added spectrum is only needed in the late stages of flowering, we've placed it on a separately controlled channel so you can decide when you use it, eliminating wasted energy and avoiding unwanted stretching during the earlier stages of plant growth.
LOWER INTENSITY BLUE SPECTRUM
33% GREATER BLUE SPECTRUM INTENSITY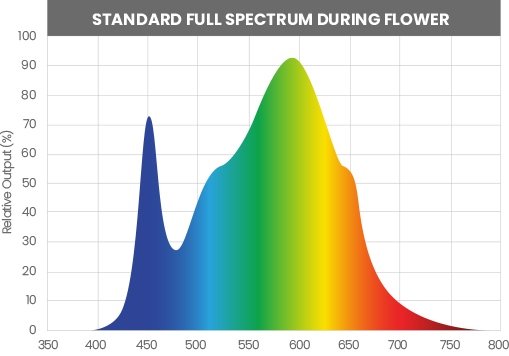 NO OPTIMIZATION DURING FLOWER
2X INCREASE IN RED SPECTRUM DURING FLOWER INCREASED RED + UV + IR
Full spectrum diodes used by white light LED companies were originally designed for home and office use. Kind's Targeted Full Spectrum is specifically engineered for plants to maximize harvest weight and plant quality. Our spectrum is the result of hundreds of thousands of hours of field testing in Northern California's medicinal plant industry.
Efficacy Does Not Equal Results
Efficacy measures a light's capacity for turning electrical energy into photons but does NOT measure the amount of photons that are usable to plants. Most high efficacy diodes are designed for home/office (not horticulture), and while they produce a lot of visible light, much of that light is not used by the plant and wasted as heat energy. Most white diodes are cheaper to produce and measure high in efficacy but use a spectrum that creates wasted light for plants.
Grow Bigger with a Low Profile
The New X Series' external driver mount offers 60% reduction in light height (more grow space) and 25% reduction in heat output.
Kind LED has been the industry leader in targeted full spectrum LED grow lights since 2014. We've consulted with hundreds of professional medical growers to rigorously research and develop our proprietary cutting-edge LED technology which continually revolutionizes the indoor growing industry year after year. Kind LEDs are widely considered the best LED grow lights to maximize yields and potency on the market today.